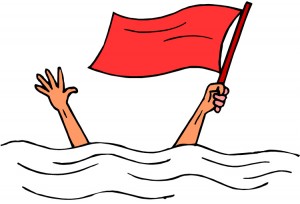 When you are in a relationship with someone you love it can be difficult to figure out whether the conflicts in your relationship are abusive or not. If you notice any of the following "red flags" in your relationship, there is a possibility that your relationship could be controlling or abusive.
Extreme jealousy — one partner unreasonably accuses the other of infidelity or flirting.
Controlling behavior — one partner attempts to control where the other goes, whom the other person sees, how the other person dresses, or needs to know partner's whereabouts at all times.
Isolation — one partner has become isolated from family or friends.
Physical or sexual violence — any non-consensual violent or sexual acts by one partner against the other, including threats of violence.
Unequal allocation of responsibility — one partner blames the other partner for all the problems in the relationship and the other partner is self-blaming.
Fear or anxiety — one partner feels scared of the other or nervous about the other's opinion or reaction.
Anger — one partner in the relationship could be described as having a "bad temper," "just losing it," or "moody."
If you are concerned about your relationship, talk to an advocate at a domestic violence program (or to a therapist with expertise in abusive relationships) who can help you figure out what is going on and what you want to do about it. A counselor who understands abusive relationships will not try to get you to leave your partner or take any particular course of action. Rather, the counselor's job is to support you in making your own decisions and to help you figure out how to be as safe as possible no matter what decisions you make about your relationship.
Many therapists have had no real training in domestic violence or in safety planning for people who are being abused (I was fortunate to get such training while working at two domestic violence programs). Unless you know the therapist has training and experience in this area, go to a domestic violence agency first. Services there are confidential and usually free of charge.
Domestic abuse can happen in any relationship, including same-sex relationships. If you are in a same-sex relationship with some of the problems listed above, help is available for you. In Massachusetts, contact the Violence Recovery Program at Fenway Health*, The Network/La Red, or the GLBTQ Domestic Violence Project.
Most of all, remember you are not alone. Help is available.
*

Full disclosure: I used to work at this program. [↩]