My office is a sunny, comfortable space at 358 Broadway, Unit 2, in Cambridge, MA.
This is part of the waiting area.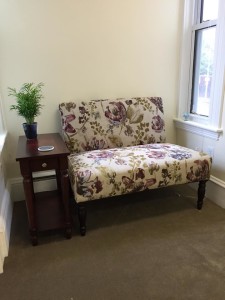 This is the therapy office.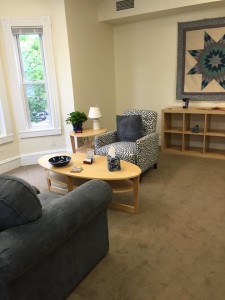 There is free parking for clients; just ask me for more information. The office is a pleasant 10 minute walk from the Central Square stop on the MBTA Red Line and also close to many bus lines.
Disability and Deaf Access
I have been an advocate for disability rights for many years and have done trainings on disability access issues. I understand the difficulties people with disabilities face due to lack of access. I know that being disabled in a world designed for non-disabled people can be stressful. I also know that not every life problem is related to your disability. As much as possible, I endeavor to accommodate everyone's needs. While my office is not wheelchair-accessible, I will gladly work to accommodate clients with disabilities the best I can. Detailed information about other disability access is available here.