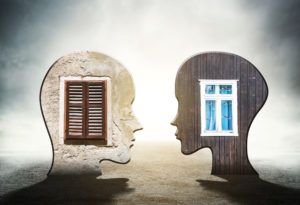 In order for individual therapy to be worth your time and effort and money, it has to be more effective than a popular psychology book. Right? Otherwise, you could check a book out from the library, read it, implement the suggestions, and be done.
Some of those books have great ideas. Many are written by experts. They are often easy to read with clear suggestions and strategies to try.
So why try psychotherapy? Why would psychotherapy be any more helpful than reading a book about your problems?
The therapy relationship.
The therapy relationship — the relationship between client and therapist — is what makes individual psychotherapy effective (or ineffective). Research shows that it is the quality of the therapy relationship, rather than the particular therapy methods used, that predicts success. (See this article, for example.)
I know this is kind of weird because nobody comes into therapy saying, "The reason I am here is so I can have a good therapy relationship." People want help solving their problems, working towards personal growth, feeling better about themselves, and improving all of their other relationships.
But we heal in relationship, not alone. We heal and grow in connection with others. The therapy relationship is one of those healing relationships that allows you to really connect with another human being: your therapist.
Without connection, therapy is no more useful than a popular psychology book or a good magazine article about your problem. Therefore, you need a therapist who will do a good job at connecting with you and you need to do your best to connect also.
The connection is more important than the therapist's philosophy of therapy, more important than the interventions the therapist makes or the advice the therapist offers. Connection usually is not sufficient for therapy to be effective, but connection is necessary for it to be effective.
So if you feel like you're not getting anywhere in therapy, try to improve your connection with your therapist. Think about what might allow you to feel more connected, to strengthen the therapy relationship. Talk with your therapist about it. A better therapy relationship will help you to heal and grow.